11 Safest Places to Travel Alone in the US in 2022
Traveling alone is not for the faint of heart. Not everyone has the confidence to explore the unknown and walk the road less traveled. But for all the thrill-seekers and solo travelers, there is no better way to reconnect with yourself than traveling alone.
Back in the old days, it was a lot harder to travel from one country to another, let alone venture into exotic destinations all by yourself. But today, modernization has made it all possible.
Believe it or not, one of the biggest concerns for solo travelers in the United States is their safety. No matter what your gender is, visiting new places all by yourself comes with its own risk.
However, some places can be considered safe, even if you travel alone. Down below, we have cherry-picked all the great places in the United States that you can safely go to all by yourself:
Austin, Texas
Being the state capital of Texas, Austin offers a lot of activities for travelers and locals alike. This vibrant city is also known as the Live Music Capital of the World, and you can find a lot of live music venues and shows, especially on Sixth Street, or the Dirty 6th. Here, you can't call it a night without visiting one of the more than 100 restaurants, bars, and music venues that get lively from Thursday to Sunday.
On the other hand, if you're a nature lover, there are many beautiful spots that will leave you with long-lasting memories. For instance, you can take a refreshing swim at the Barton Spring pool, kayaking, canoeing, and hike-and-bike trail at Lady Bird Lake, or just a stroll out in nature at McKinney Falls State Park.
For an indoor adventure, the Bullock Texas State History Museum and the LBJ Presidential Library have stored a lot of historical photos, documents, and other valuable information that you can't get in other places.
Other places to visit in Austin:
Mount Bonnell
Blanton Museum of Art
Ziker Metropolitan Park
Austin Aquarium
Mayfield Park and Nature Preserve
Honolulu, Hawaii
Located on the island of Oahu, Honolulu is the largest city in Hawaii. It is also ranked in 2015 as one of the safest cities in the United States.
In this warm and tropical city, Waikiki Beach is the main tourist spot that covers nearly half a square mile of the peninsula. In this area, there are a lot of hotels, shops, and restaurants that can get really crowded at night.
If you're ever in Honolulu, don't forget to visit Pearl Harbor and the USS Arizona Memorial which are filled with historical collections and various remains from World War II.
Then, you can head over to the eastern part of Waikiki's coastline and hike up on the steep trail of Diamond Head State Monument. Be sure to wear the right clothing, and carry a water bottle to prevent dehydration.
When the weather is good, you can visit the Lyon Arboretum, a botanical garden that preserves more than 5,000 tropical plants from Hawaii and Polynesia. You can also learn about Hawaii culture, sculpture, and decorative arts at the Honolulu Museum of Art.
Other places to visit in Honolulu:
Aloha Tower
Manoa Falls
Hanauma Bay Nature Preserve
Koko Crater Railway Trail
Bishop Museum and Planetarium
Walt Disney World, Florida
You may already know a lot about this magical park. For Disney fans, this 27,000 acres of entertainment complex located in Bay Lake and Lake Buena Vista, Florida, is like heaven on earth. Be it for kids or adults, there are so many things that you can do at Disney World.
As for solo travelers, you should check the top five biggest parks in this area which include Disney's Magic Kingdom Park, Animal Kingdom Park, Typhoon Lagoon Park, Blizzard Beach Waterpark, Hollywood Studios, and the large geodesic dome at EPCOT for an outer space experience.
The best time to visit Disney World is pretty much anytime except the holiday seasons. This is to avoid large crowds and the need to wait for every activity.
If you're thinking of staying in this area for a couple of days to get the most out of all the activities, there are a few affordable hotels nearby such as the Grand Orlando Resort, Rosen Inn Lake Buena Vista, Maingate Lakeside Resort, and many more.
Other places to visit at Disney World:
Kilimanjaro Safaris
Remy's Ratatouille Adventure
Expedition Everest
Tower of Terror
Space Mountain
Denver, Colorado
Also known as the Mile High city, this city is located in the southwestern United States close to the Front Range of the Rocky Mountains. Due to its contribution to agriculture, Denver was historically known as the Queen City of the West and the Queen City of the Plains.
For solo travelers, there are tons of activities that you can enjoy in this city. 15 miles from the city center, the Red Rocks Park & Amphitheater has been the site of many music festivals.
If you're into history and culture, Denver's Museum of Nature and Science has collected many remains from the Ice Age, prehistoric remains, and other historical minerals. You can also visit the Denver Zoo which conserves many species of animals including grizzly bears, red pandas, Amur tiger, African lion, Asian elephant, and other wildlife.
But if you're looking for something soothing but cheerful, then head over to Larimer Square. This historical district is full of art galleries, restaurants, shops, and cafes.
Other places to visit in Denver:
Denver Botanic Gardens
Coors Field
16th Street Mall
Cherry Creek North
Civic Center Park
Key West, Florida
Located in the most southern part of Florida, Key West offers a lot of amazing places and entertaining activities for tourists and travelers of all ages.
When traveling alone, you can start your trip by taking a stroll along Duval Street. This place offers many restaurants, shops, and historical homes that attract many tourists from all over the States. For instance, you can visit the Ernest Hemingway Home and Museum which has been restored and preserved to maintain its early 20th-century atmosphere.
At the Southernmost Point, you can find a lot of street vendors and performers selling their beautiful crafts and souvenirs. But if you love sightseeing and beautiful scenery, head over to Fort Zachary Taylor Park, especially in the evening when the sun sets. This park is also a place for many music events, concerts, boat races, and other annual exhibitions. Aside from swimming at the beach, travelers can enjoy trail-walking or snorkeling in the designated area.
Other places to visit in Key West:
Martello Towers
Key West Lighthouse
Shipwreck Treasure Museum
Key West Aquarium
Dry Tortugas National Park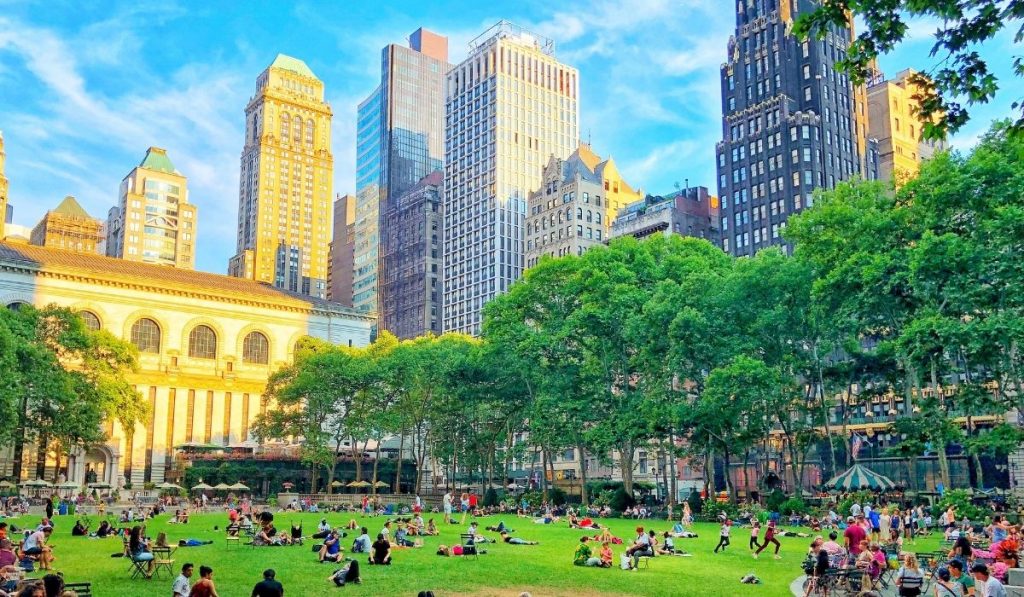 New York City
"The Big Apple" city has always been the main attraction for many tourists and travelers. All around the world, everyone knows you can't leave the United States without ever visiting New York.
This sleepless metropolis offers a lot of amazing places to solo travelers. For instance, there is the iconic Statue of Liberty, which stands over 152 feet tall and is listed as the 50th tallest statue in the world.
If you're looking to enjoy the beautiful scenery without breaking your bank, Central Park would be your best bet. Aside from the skating activity at the Wollman Rink, you can visit other places around this park including the Central Park Zoo, the Belvedere Castle, Strawberry Fields, and the Lake of Central Park.
You can also enjoy many theater and Broadway shows in the Broadway and Theater District. Be sure to buy tickets early for any popular shows.
Other places to visit in New York City:
Lincoln Center
New York Public Library
Empire State Building
Brooklyn Bridge
Times Square
Moab, Utah
Located in eastern Utah, this city is well-known for its large, naturally-built red rock landscapes. It is also the largest city in eastern Utah with a population of 5,366 people.
Moab is a haven for people who love extreme activities and magnificent scenery. Most of the experiences that you can get here are through outdoor activities. For instance, you can explore the Arches and Canyonlands National Parks on foot or by riding an ATV. If you're a mountain biker, then Slickrock Trail is your best spot to experience challenging routes and terrains.
But if you want to sit back and enjoy the view, take a drive by the Shafer Trail Road and Rugged Backroads. If you have a truck or 4WD, the Rugged Backroads will allow you to push your skills and the ability of your machine to handle difficult off-road routes.
There are also water sports that you can do on the Colorado River if you prefer something relaxing and less aggressive. These include kayaking, canoeing, and water rafting.
Other places to visit in Moab:
Sand Dunes
Dead Horse Point State Park
The Potash Road
Bartlett Wash
La Sal Mountain Loop
New Orleans
New Orleans is another must-visit city for many people, whether they are local or from other countries. This colorful city is famous for many things including Cajun cuisine, jazz music, and the outrageous Mardi Gras celebration that is held annually.
A couple of interesting spots in New Orleans for artistic people and jazz lovers are Magazine Street and Frenchmen street. If you're looking for a nice café to sit, sip a freshly brewed coffee, and enjoy a delicious beignet in, then Café Du Monde is the place to be.
There are also different types of museums that you can find in New Orleans. For instance, the Museum of Art exhibits many pieces from the era of the Italian Renaissance to modern days. Then, the National WWII Museum showcases a lot of military equipment, Higgin boats, jeeps, and actual planes. If you want to learn more about the history of Jewish people from the Colonial era to today, head over to the Museum of Southern Jewish Experience.
Other places to visit in New Orleans:
Crescent City Farmers' Market
Lafitte Greenway
The Broadside
Bourbon Street
Jackson Square
Grand County, Colorado
Located 70 miles outside of Denver, this city was named after the Grand River and Grand Lake, which is the largest and deepest natural lake in Colorado.
From the outside, Grand County isn't as big as other cities but this place is perfect for solo travelers who are looking to escape the hustle and bustle of the metropolis. This city is affordable to most people. The experience here is well worth the cost. You can venture into the wilderness at Rocky Mountain National Park for as low as $10 per person.
If you love water sports, head over to Grand Lake. There are many things to do including lake fishing, fly fishing, kayaking, or just a simple picnic along this peaceful lake. You can also explore Grand Lake on a stand-up paddleboard that costs as low as $25 per hour.
At night, you can relax, grab some dinner, and watch live performances at the Foundry Cinema & Bowl. This movie house is equipped with a bowling alley, bars, and a pizzeria that serve refreshing drinks and food.
Other places to visit in Grand County:
Grand Park Community Recreation Center
Trail Ridge Road
Corona & Rollins Pass
Bike Granby Ranch
Winter Park Resort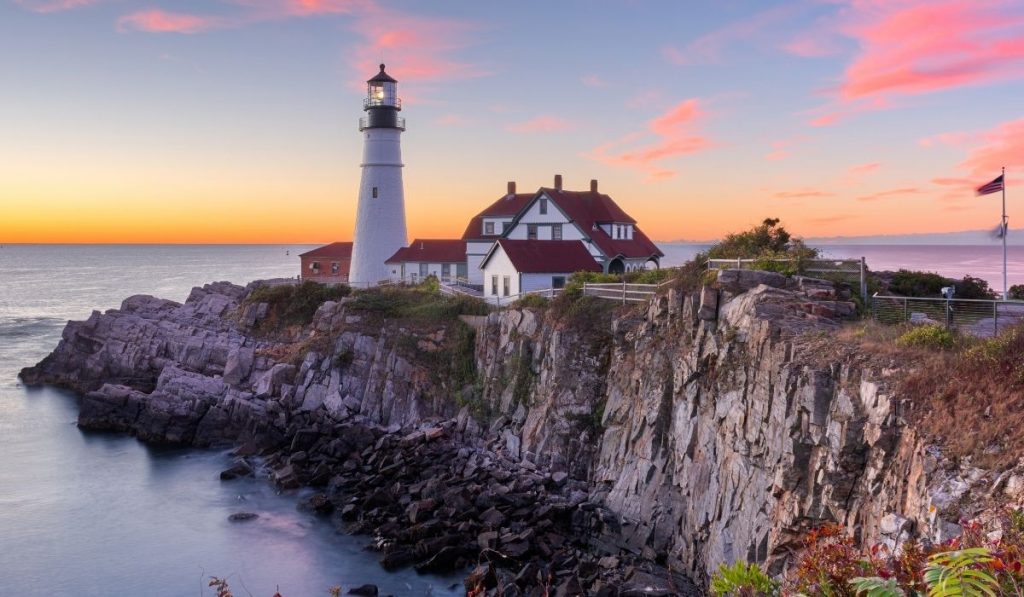 Portland, Maine
With a population of more than 64,408 people, Portland is known for many things. There are more than 60 lighthouses in Maine and one of them is famously known as the Portland Head Light.
For solo travelers, the best season to visit this city is in the summer. You can never get enough of the historic structures of Victorian houses and 19th-century red brick buildings, especially in the Old Port District. You can also a find lot of cafes, shops, boutiques, and art galleries around this area.
Before leaving, you must visit the Maine Narrow Gauge Railroad Museum. This museum exhibits and preserves many historical rail cars and equipment. You can also enjoy a beautiful waterfront train ride that will take you along Casco bay for about 40 minutes.
Last but not least, if you're looking to learn about mysterious things in Portland, the International Cryptozoology Museum has many collections and records of mysterious animals, including Big Foot.
Other places to visit in Portland:
Portland Science Center
Spring Point Ledge Light
Eastern Promenade
Portland Museum of Art
Fort Williams Park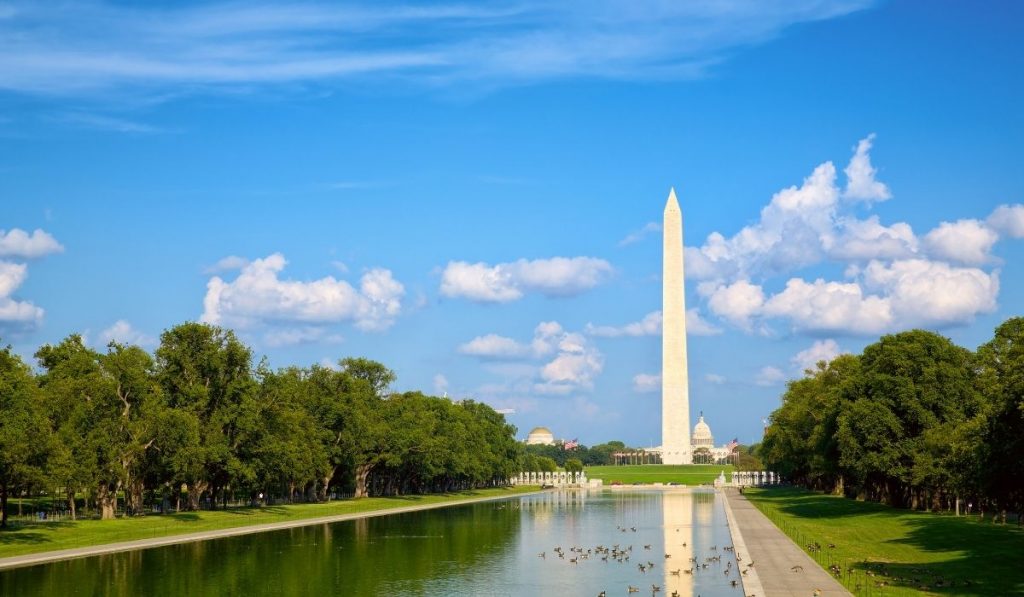 Washington, DC
Being the capital of the United States, Washington has a lot to offer other than just the White House.
If you're traveling alone to Washington, the first place to go would be the Washington Monument. Take a picture around this gigantic 555-foot white shaft that is surrounded by 50 American flags.
For a better bird's eye view, you can take an elevator to the top. You can also visit the National Air and Space Museum which preserves many historical aircraft including the original 1903 Wright Brothers Flyer.
Another local spot for tourists is the Lincoln Memorial. There is a 19-foot marble statue of the 16th president of the United States, Abraham Lincoln.
Finally, don't forget to visit Washington National Cathedral and enjoy the scenic view of the English-style, Neo-Gothic concept of this large cathedral.
Other places to visit in Washington:
Jefferson Memorial and Tidal Basin
National Mall and Veteran Memorials
International Spy Museum
Georgetown Historic District
Arlington National Cemetery
Final Thoughts
Traveling solo in the United States can save you a lot of money. In fact, what you spend on your trip is worth more than you can imagine.
You don't have to travel abroad to venture into the wilderness, explore canyons and caves, or even just sit back and enjoy the atmosphere. There are a lot of things to do and numerous places to go here. All you have to do is plan your trip and get to it.
Citations