20 Entertaining Things to Do on a Long Car Ride by Yourself
Whether you are driving alone or traveling in a car with strangers, traveling alone can get boring.
To avoid this boredom, you always need to plan for your journey and get all the supplies you would need for the road, including those that would keep you occupied and entertained.
So how do you make your solo trip more fun and memorable? Here are a few entertaining ideas for your road trip.
Things to Do While You're Driving
Listen to Your Favorite Playlist
Playing your favorite music will help keep you awake and be your perfect companion throughout the journey.
It would help if you had your favorite playlist on standby before hitting the road.
Remember to carry a portable charger to keep the phone fully charged.
Besides saving your favorite tunes to your phone, digital streaming platforms like Spotify offers access to a pool of millions of songs online.
However, since streaming greatly relies on the internet reception, some places will have poor reception, and you will need to have a backup source of music, such as CDs from your favorite collection or having a playlist on a flash drive.
A long boring drive can leave you sleepy, which can put you and other road users in danger. However, you can always count on music to keep you alert when driving, as long as it's upbeat.
Sing to Your Heart's Content
Whether you are a brilliant singer or not, singing out loud along to tunes, without bothering who hears you or doesn't, is one of the greatest feelings, especially if you are in a car all by yourself.
Singing helps you keep your mind awake and maintain focus on the road. It also helps you manage the stress of traffic.
However, never make the mistake of closing your eyes! This will be against everything the music was meant for: keeping you alert.
Hum Those Tunes, Too
Don't know the lyrics to one of your favorite songs? Never mind. Surprisingly, humming is just as satisfying as singing can be.
Besides, humming has additional benefits.
If you have clogged sinuses, humming comes in handy to work in place of antihistamines that can even make you sleepy.
Furthermore, humming helps maintain your breathing levels, thereby keeping the stress and anxiety levels at a minimum while driving, enabling you to have and enjoy a smooth journey.
Listen to Podcasts
If you are not a music lover, there is a pool of funny and exciting podcasts to keep you company during the ride.
It is advisable to download the podcasts before hitting the road to avoid risking a loss of coverage for the option of live streaming.
If you have never listened to any before, try testing out a few to see if you like any.
Listen to Audiobooks
Alternatively, you can listen to audiobooks when going on a solo journey. Depending on what you like, you can download various audiobooks to listen to later on during the journey.
However, some audiobooks may make you feel way too relaxed, and you might doze off behind the wheel. Therefore, ensure to get you something that will keep you both educated and entertained in an alert manner.
Take an Interesting Detour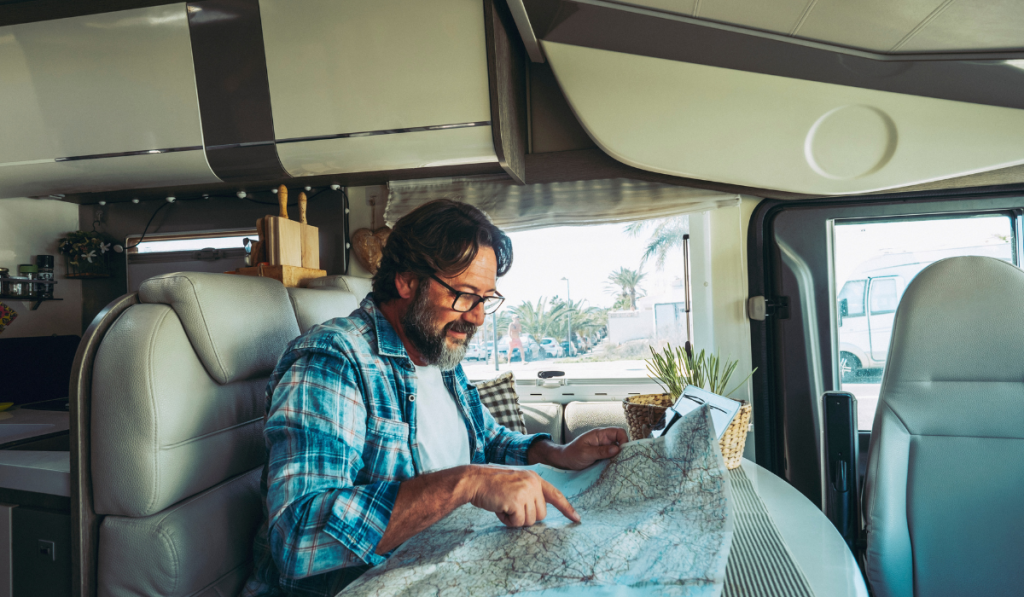 Sometimes, straying a bit from your scheduled route will be the most exciting thing you do on a dull ride alone.
You may pre-plan to visit the eye-catching attraction points or find them by surprise on Google Maps, but either way, these impromptu detours are always worth the shot.
Eat Healthy Snacks
Are you getting bored with your own company in the car? Well, a few healthy snacks can help you light up the mood without fuss.
When going for a long ride, having a few snacks is always recommended, and you should also make it a priority when preparing for a long ride.
Whether you are a food lover or not, snacks for the road are always a thing everyone goes for, regardless of whether you will be driving alone, with family or friends, or with any other person.
Listen to Stand-Up Comedy
Are you still worrying about what to do for your long, boring ride? You should give stand-up comedy a try. Always count on the comedians to deliver fresh and rib-cracking content to keep you entertained throughout your journey.
Besides, stand-up comedy will always help you focus your energy on the tasks at hand instead of worrying about what others would feel about you spending quality time by yourself, allowing you to kill boredom significantly.
Watch the Sunrise or Sunset
Every eye-catching view is important, but none beats watching the sunrise or the sunset. Don't miss the chance to capture the moment for future reminiscence and memories.
Pull over in a suitable location and take a photo or two.
Call Someone You Haven't Talked to in a While
Whenever you feel lonely and need a companion during your solo ride, this is the best time to give a phone call to friends and family with whom you haven't talked in a long time.
Your funny friends, for example, will automatically make you laugh and uphold your spirit even when you are feeling low, often leaving you encouraged and charged up for the journey.
Learn a New Language
Why not learn a new language if you are bored on your solo road trip?
Learning a new language will especially come in handy if your road trip is in another country and the locals have a different dialect. In this case, knowing the locals' language will significantly help you link and communicate with the local people.
Smartphones have word translation application software, and some will even help you with the audio voicing of the words, greatly helping and guiding you through the learning process.
Note: Do not look up words when you're driving!
Things to Do When You're Not Driving
Take Good Pictures
Which is the best way to store memories? You got it; pictures.
You may not be able to carry the places with you, but once your adventurous road trip is over, at least you will have the pictures to reminisce about the good old moments you had on the road all by yourself.
Thanks to the selfie mode, you no longer need to depend on someone else to take a good photo of yourself.
You will need to include your high-definition camera in the essentials list when packing to capture the beautiful scenery during the trip.
Sleep or Take a Nap
Extended hours of driving can be tiresome no matter how much you try enjoying it. Whether driving with friends or in the company of strangers, you can always take a few minutes or hours off for a nap.
If you feel tired and do not want to be on your phone, feel free to curl up in your seat (if you are on a bus or train) and enjoy a little nap or if you are the driver, book a hotel room and take a complete rest for a few hours before re-embarking on your journey.
Read a Blog or an Article
Why not read articles like how to enjoy solo trips to re-energize yourself for the road? Or read a travel post and visit that nearby sightseeing location on Google Maps to divert your mind a bit from the main course.
Read a Book or a Novel
It can be challenging to take a stop to freshen up and relax at a travel center if you are doing it alone. Therefore, it is advisable to take a book along for the moments you will feel you need a break from the steering wheel or the nearby passenger.
Play Games on Your Phone
Long rides are incredibly tiresome, so you may not spend all the time behind the wheel.
Whether you are taking a break to freshen up, have a meal or a snack, or just want to get some hands-off-the-wheel time, you can always play games on your phone.
Either in a single-player on multi-player mode, some games allow you to invite friends to a shared virtual platform, enabling you to enjoy time with friends and family.
Watch Shows
With a wide range of shows from fiction to biographies and documentaries, platforms like Netflix and Showmax will always keep you entertained whenever you decide to take a break from the wheel, provided you have a valid subscription to their channels.
Edit and Organize Your Travel Photos
Whenever you take a small break from the steering wheel, take time to explore the photo editing and organizing applications on your smartphone or laptop to help you better organize your travel album.
Crochet or Knit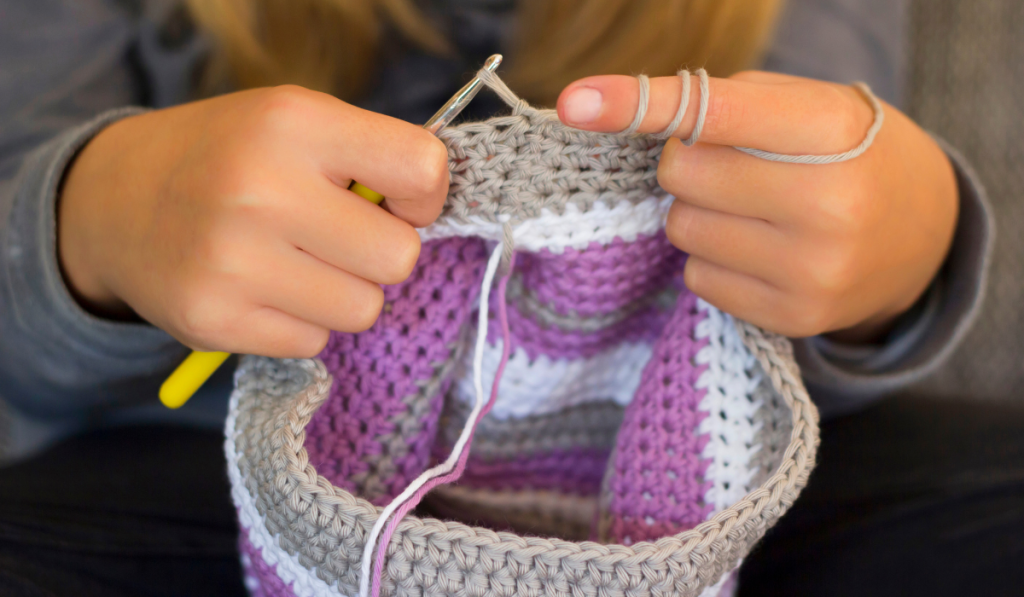 If you have a driver to take you to your destination, you can take advantage of the free time to stitch up a few patterns for whatever piece they were working on.
If you have all hands on deck on the steering wheel, you can always use your resting time to stitch up a few patterns, too, if you like knitting and crocheting. This, without doubt, is the most fun thing to do when you have no gadgets on.
Meditate
On the bright side, driving alone has many advantages.
Although you may miss people around you, going alone enables you to focus your thoughts on the things you need to prioritize the most while putting aside the gadgets and avoiding screens.
Therefore, whenever you feel bored during a long ride, just look for beautiful scenery or anywhere relaxing and spend a few minutes to clear your thoughts and find your inner self.
Conclusion
Being a lone traveler doesn't necessarily have to be boring. Whether you are the one driving, lucky enough to have a driver, or alone in the company of strangers, the sky is the limit for all the exciting things you can do to beat boredom. I hope you will pick a few fun things to do from the list above.
Resources