Is Tulum Safe for Solo Female Travelers?
Mexico has a bad rap. Lots of stories can be found all over about sketchy things taking place in Mexico, such as scams where they advertise a grand resort that turns out to be a seedy hotel in a scary neighborhood. People get jumped, mugged, or pickpocketed often on the streets.
And of course, there's the advice "Don't drink the water!" that you hear practically any time someone mentions going to Mexico. Parasites are a real concern, but honestly, the things people warn you about get distorted and inflated because Mexico is really no more dangerous than other countries.
I do understand the concern when it comes to solo female travel, ladies. Regardless of country, it's always more dangerous for us to travel by ourselves than it is for men. People think that just because we are women, it gives them permission to try to take advantage of us, and being alone makes the opportunity even greater.
Such stories about terrible things happening to women when they've been caught alone in foreign countries are ones we should always give heed to for our own protection and preparedness. But protection and preparedness do not mean total avoidance.
We can't hide away, staying home just because there's a risk of something happening to us – there's a risk anywhere you go! And if traveling the world is your dream, and, for whatever reason, you'd like to go about it alone, then, by all means, you should do it!
Maybe you need time to yourself to discover who you are or what you want out of life. Perhaps you have enough money to go alone, or perhaps others would be a burden due to conflicting interests and having to coordinate everything.
You fly freer on your own. So let yourself soar – go out there into the world and experience life and culture you've never dreamed of! We want you to have every opportunity to have the life experience you need and deserve, but we want you to do it safely.
As far as destinations in Mexico go, is Tulum a safe place to travel alone as a female?
Tulum, Mexico, can be a safe stop on your journey around the globe as a female traveling alone. Tulum is a small town, only five miles in total, which makes it safe to walk after dark if you end up being out late or want to take a nighttime stroll.
Read on to learn more about traveling to Tulum, how safe it is for solo female travelers, and what you can experience there!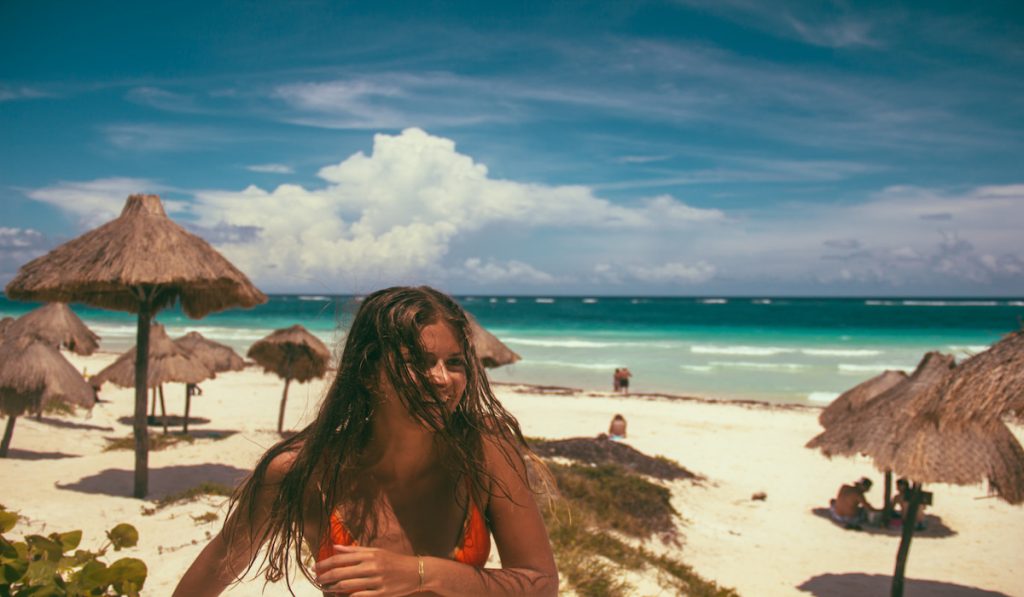 Tulum, Mexico Geography
Tulum is located on the Yucatan Peninsula, the part of Mexico closest to Cuba. Tulum is in Quintana Roo, one of the states on the Yucatan Peninsula, along with Yucatan and Campeche. Quintana Roo is also home to other bustling tourist destinations, including Cancun, Riviera Maya, and Playa del Carmen.
Because the Yucatan peninsula is located right next to the Caribbean, it is also referred to as the Mexican Caribbean. The peninsula is the country's biggest tourist attraction and is home to the most beautiful beaches in all of Mexico.
How to Stay Safe in Tulum, Mexico
The biggest threat to watch out for is pickpocketing. In largely populated, crowded areas, people may jostle or bump into you and steal your wallet, phone, or purse during the ensuing contact. Theft is common in practically all tourist towns, from Mexican cities to European cities to Asian cities to American cities, so it's hardly a reason to avoid Tulum!
Tulum is a party town, so there are plenty of places to find alcohol and drink and be merry. However, we urge you not to go wild with your drinking, especially if you're alone, because it will make you a perfect target for thievery or for anyone wanting to take advantage of you.
Buying drinks from a bar or store is okay, but don't take anything offered to you by strangers. You don't know what's in it! And you don't have anyone to look after you if anything happens.
There are occasional hurricanes that hit Tulum, so you'll want to check the weather reports and storm warnings for the area before you go, just in case. As natives, Tulum residents will know how to best avoid a storm, but as a tourist, you might not know the necessary safety precautions and will have less access to areas to take shelter while the storm runs its course.
And of course, as Tulum is in a sunny, tropical area, you'll want to wear plenty of sunscreen and bug spray to prevent burns and nasty mosquito bites!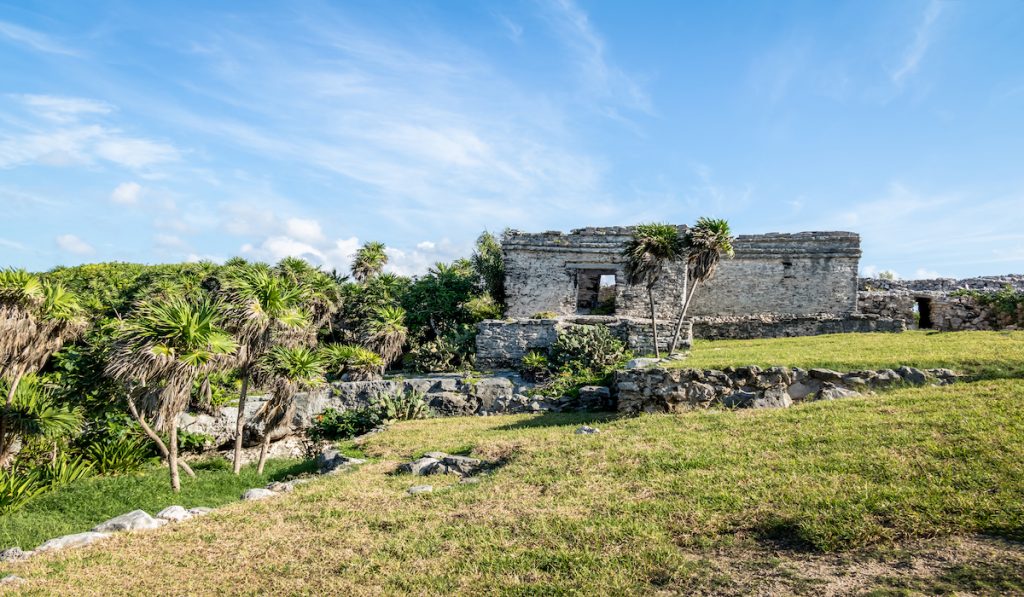 How Can I Travel Around Tulum?
Tulum isn't very large, so if you wanted to, you could simply walk! The town is split into two parts: Tulum Town and Tulum Beach.
Tulum Beach is approximately two to three miles away from the town, so it is a doable walk. However, with the humidity and heat, you may want to consider driving or riding a bike to get to the water faster.
There are no Uber drivers in all of the Yucatan Peninsula, but there is a cab system. Renting a car is really not necessary, since it is such a small town and you could just walk. And for the occasional times you'd want to drive, you can take a taxi.
Bikes can be rented for 10 U.S. dollars a day and give you exercise while you enjoy the sights of the town and experience it at a leisurely pace.
Where Can I Stay in the Town?
Tulum beach is the aesthetic part of the area. When you see pictures of Tulum on social media, it is most likely of Tulum beach's boho cafes and shops, art sculptures, and eco-friendly hotels. Staying on the beach puts you right next to the ocean every day, and as for transport, everything can either be walked to or biked to.
However, because of its popularity and beauty, the beach is the more expensive side of Tulum to stay in, with prices getting up to around US$2,000 a night. Not ideal for the penniless world traveler, but perhaps for the solo vacationer!
Staying in town is not as pretty but is cheaper at around US$50-US$200 a night. For solo world travelers, there are also hostels set up around the town, starting at US$30 a night. Sleeping in town will also give you a deeper experience of Tulum culture, as most locals live in Tulum town as well.
You may assume living accommodations in town to be less safe, but the price difference is really based on aesthetics and closeness to the beach. Inside Tulum town, there are two areas, Aldea Zama and La Veleta, which you can choose to stay in.
Aldea Zama is at the halfway point between the town and the beach, about a mile away from both. This is where you'll find apartments and townhouses to rent, along with Airbnbs. These are good for family trips but possibly too expensive for solo travelers.
La Veleta is furthest from the beach (about three miles) but closest to town (about a mile away). Its distance from the beach gives it the best prices, and if you want to stay in town more anyway, it's a great deal.
Experiences That Make Tulum Worth the Trip – Convince Me!
Tulum has many diverse experiences you can choose from, depending on your interests.
Swimming
If you're there for a good swim, aside from the beautiful Tulum beaches, you can also go swimming at the Cenotes.
The Cenotes are sinkholes created naturally from the ceilings of caves collapsing. These sinkholes create swimming spots that are incredible! The most popular Cenotes are Dos Ojos, Cenote Choo Ha, Gran Cenote, Casa Cenote and Cenote Calavera.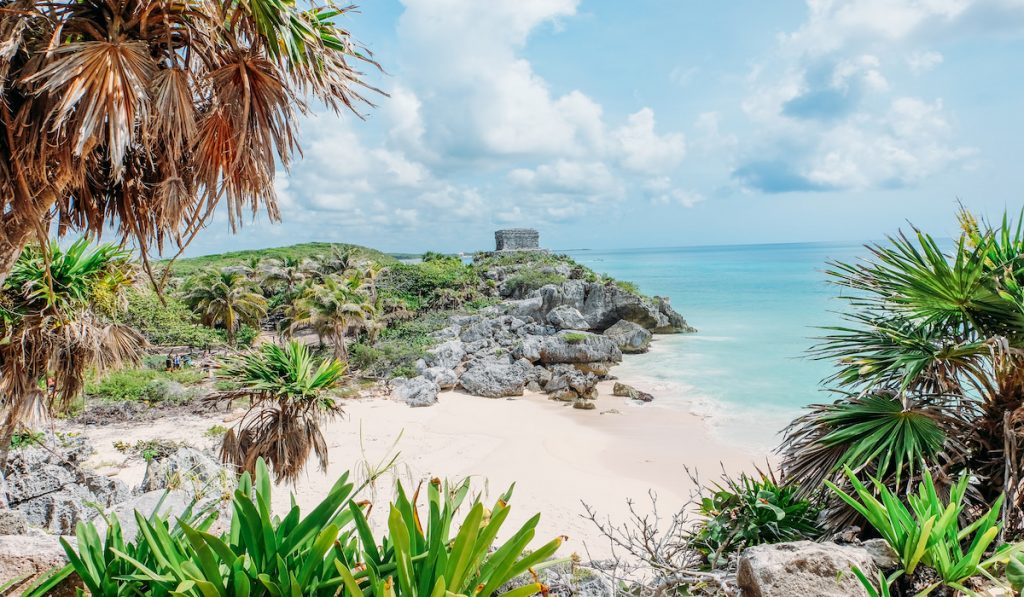 Coba Ruins
A more historical option would be to visit the Coba Ruins. These are ancient Mayan ruins located about 40 minutes outside of Tulum, so you'd want to take a cab.
Cenote Choo Ha is located right near Coba Ruins, so if you want to do both in one day, that's a great option! The park costs US$3.50 to get in (or 75 pesos), and once inside, you can choose to explore the park on foot, by bike, or by riding on the back of one.
Azulik Uh May
And for those artists or art appreciators, there is an incredible interactive exhibit found in the heart of the jungle called Azulik Uh May. It's about a 35-minute drive from town.
Azulik Uh May is a living art exhibit made from jungle vines and trees. It is woven into a domed ceiling that goes all the way down to a patterned floor, with beautiful cement accents and rails. The best part, besides the incredible art? It's totally free! It is surely on the must-see list for Tulum!
The Bottom Line
Traveling solo as a woman is an empowering experience.
Everyone wants to feel independent, and going on vacation or even taking a tour of the world by yourself can bring exactly that to your life. It gives you the opportunity to experience new ways of living life outside of your native country and a new perspective on your personal dreams and aspirations.
With all of this going for you, we want you to be able to achieve that and have the best possible time.
Although traveling alone as a woman can be a risky endeavor, if you do your research and find the safest places to travel, and you prepare and travel wisely, you should be just fine.
Tulum, Mexico, is one of those perfect spots. Being on the Yucatan Peninsula, it is home to the most beautiful beaches in the country. Experience the food, the town, the people, the relaxation of the beaches, the rich history of the Mayan ruins, and the natural beauty of the jungle.
Your next adventure awaits, and we hope you choose to take it in Tulum, Mexico!
Resources