Best Time to Visit Lake Louise
You must have heard stories about how Lake Louise is frozen sometimes and thawed at other times. This might leave you wondering when the best time to visit Lake Louise is. Well, the answer to this is largely subjective as it depends on what you intend to do there.
When is the best time to visit Lake Louise?
Lake Louise is open to visitors all year, so you can visit at any time – whether the lake is frozen or not. But as we said, the best time to visit depends on you.
Below, we give an overview of what to expect at Lake Louise at different times of the year. Once you are done reading, you should be able to define the best time to visit Lake Louise according to your plans.
Lake Louise from November to May
Lake Louise remains frozen from some time in November to May. But this is not surprising since this period stretches through the colder months of the year.
At first, visiting Lake Louise during this period might seem like a bad idea. But there are many fun things you can do even when the lake is frozen. So, do not rule this period out.
November
Lake Louise starts freezing over in November, and if you get lucky, you might be able to ice skate on the frozen blue lake. Of course, you can only skate on the ice when it is not yet covered in snow.
Even if you do not skate on the iced lake, you will still get the chance to ski in the snow. Thankfully, the Lake Louise Ski Resort opens in November, so you can have as much skiing fun as you want early in the season.
One great thing about visiting Lake Louise in November is the relative tranquility. Most summer visitors leave in November, so the disturbance is minimal.
If you are still in Lake Louise on the last weekend of November, you can go see the Lake Louise Alpine Ski World Cup.
December
The conditions of Lake Louise in December are pretty much the same as in November. For one, the Lake Louise Alpine Ski World Cup may still be running on the first weekend of December. So, you can check it out.
If the Ski World Cup does not interest you, you might enjoy the holiday spirit by soaking in the atmosphere. The Fairmont's Ice Castle should be up alongside the famous ice bar by mid-December. You can visit this place with your friends or family and have a great time.
Around this same time, you can ride a horse-drawn carriage around the lake. Then you can also snowboard or cross-country ski on Lake Louise.
One thing to note is the days are much shorter in December. So, by 5 to 6 pm, the sun will set.
January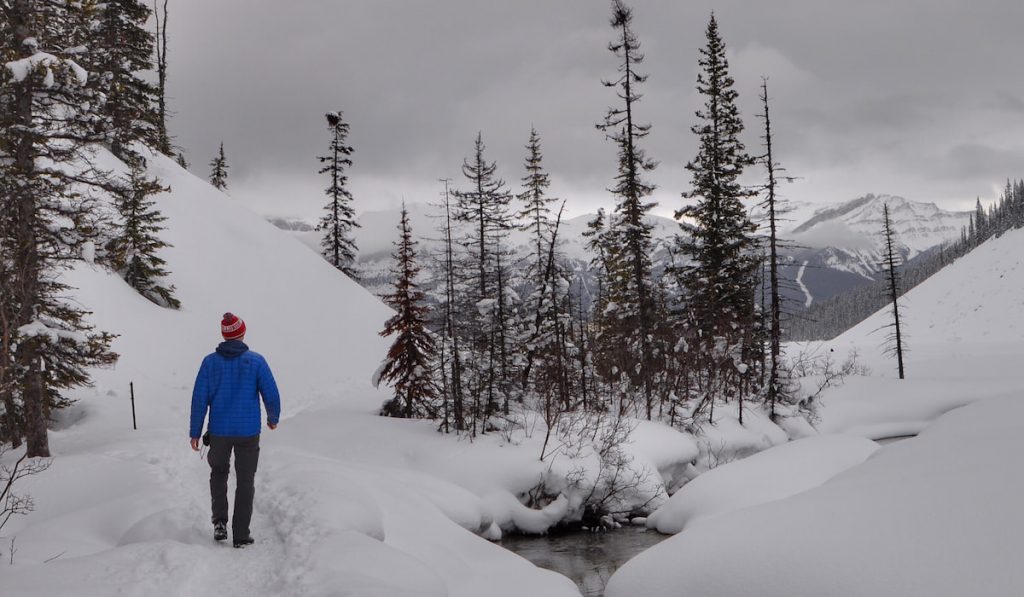 Lake Louise still remains frozen in January. The average temperature is around 23°F, but the sun shines sometimes.
If you get to Lake Louise when it receives optimal sunshine, you just might be able to ice skate or walk on it. After skating or walking on the iced lake, you can pass the time in the Fairmont Chateau Lake Louise, drinking hot chocolate to warm yourself up.
The Lake Louise Ski Resort is still open in January. So, if you are a skier or snowboarder, you can head there and get in on the fun. Also, the Ice Magic International Ice Carving Competition happens in January, so you can check that out.
February
February at Lake Louise is pretty much the same as January. You can enjoy the same activities from skiing to ice skating and drinking hot chocolate at the Fairmont Chateau.
In February, the days are still short. However, they are relatively longer than December and January. So, you get a little more daylight to enjoy all the fun activities.
March
In March, the average temperature goes up a bit to around 39°F, and there's more sunshine. So, if the cold of November to February bothered you, March might be more forgiving.
Since everywhere is pretty much frozen in March, you can still snowboard, ski, skate, and ride a sled on Lake Louise.
April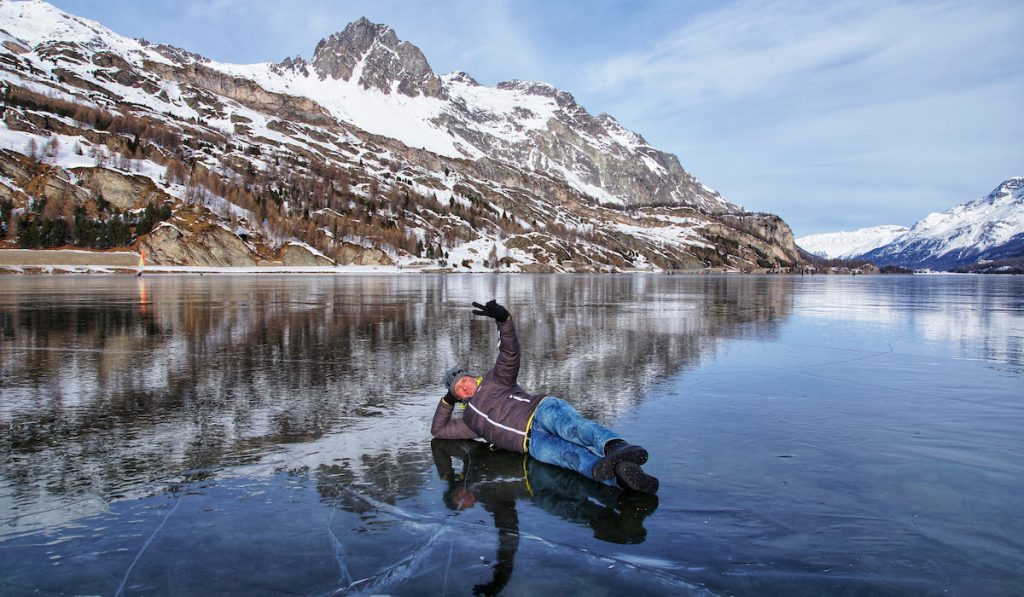 Lake Louise is still pretty much frozen in April. But the average temperature is a bit higher – around 51.8°F. So, if this temperature is good enough for you, it might be a good time to visit.
Note that the snow may have become slushy since the temperature is higher. So, you may not be able to ski or snowboard like before. However, you can still possibly skate and walk on the ice.
May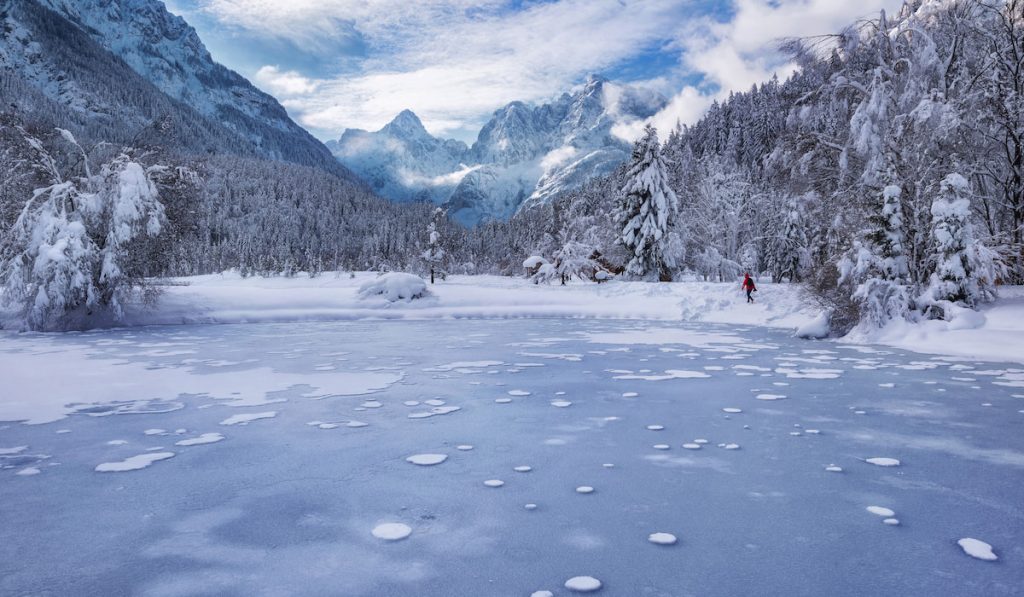 May might be the last month to enjoy the wintery conditions of Lake Louise.
The temperature continues getting higher. You might even enjoy warm days. Sometimes, the ice may start to thaw in the last week of May. But this is pretty rare.
All in all, if you love spring-like conditions, then May is a good time to visit Lake Louise.
May is the last month for the ski resorts. So, if you really want to spend time at the Lake Louise Ski resort, show up in May.
If you are in Lake Louise around the last week of May, you might have a chance to go hiking up the Little Beehives or to Lake Agnes Teahouse. But if it isn't possible in May, you should get the opportunity in the first or second week of June.
Lake Louise from June to October
Most people say June to October is the best time to visit Lake Louise. Well, below, we go over why they think so.
June
In early June, Lake Louise thaws fully. In the early days of thawing, the lake may still be dark emerald green. But then, in the coming weeks, the brilliant turquoise blue color should start emerging.
Since most of the Lake Louise area thaws in June, you can visit Lake Agnes Teahouse, Fairview Lookout, and the Beehives. You may also have a shot at going to Mount Niblock, Devils Thumb, Mount Whyte, and Fairview Summit. But this depends on the snowpack. If there is too much snow in those places, you'll have to wait a few weeks.
Since the lake thaws in June, you can rent or bring a canoe and get in the water. Also, Lake Moraine Road will be open, and you can take a trip over.
July
For most people, July is the best time to visit Lake Louise. In July, the water has finally gotten into its brilliant turquoise blue color. So, the scenery is even more beautiful.
Generally, July in Banff is beautiful. The sun is out, rainfall is low, and the days are long. The average temperature in July is around 75°F, so it is neither too hot nor too cold. But you may still need to keep warm at night.
Since most people tout July as the best time to visit Lake Louise, do not be surprised that there's usually a crowd at this time. You can expect to have many people around. Unfortunately, finding a parking spot can be difficult, especially during midday.
August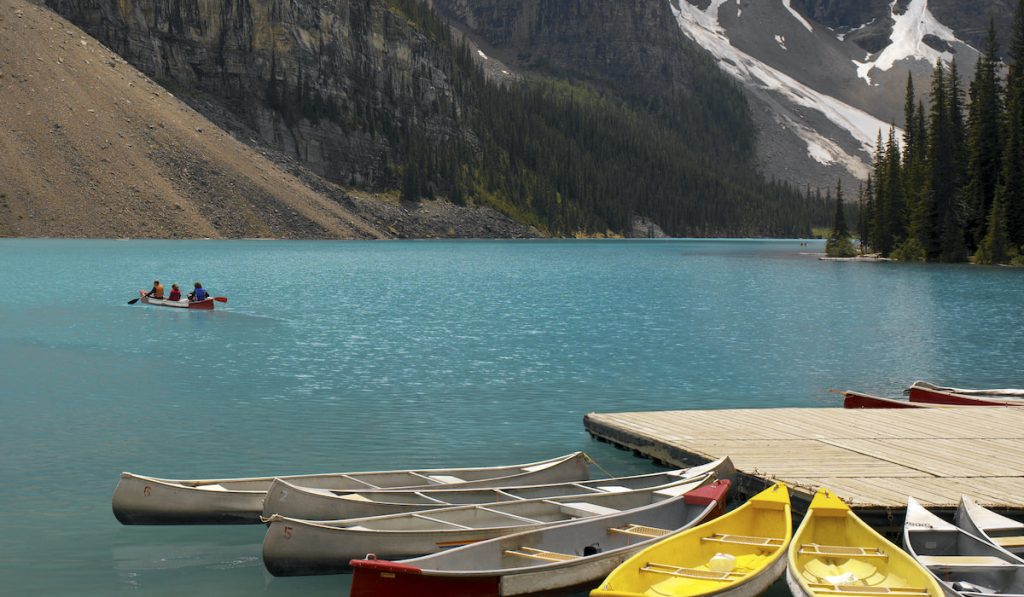 August in Lake Louise is just as good as July in Lake Louise, if not better. So, in the same way some people think July is the best time to visit Lake Louise, some think August is the best.
Between July and August, most of the snow on Mount Niblock, Devils Thumb, Mount Whyte, and Fairview Summit should have thawed. So, you can visit them for sure.
August in Lake Louise is typically pretty full – perhaps fuller than July. So, finding a parking spot might be a problem during the active hours of the day.
In August, you can rent a canoe or bring your own canoe and set out on Lake Louise. You can also go paddleboarding on the lake. Then you can hike the Plain of Six Glaciers.
You can also head to Lake Moraine since the road that leads there is open. If you are not going to Lake Moraine, you can go on the Lake Louise Gondola for a scenic experience.
September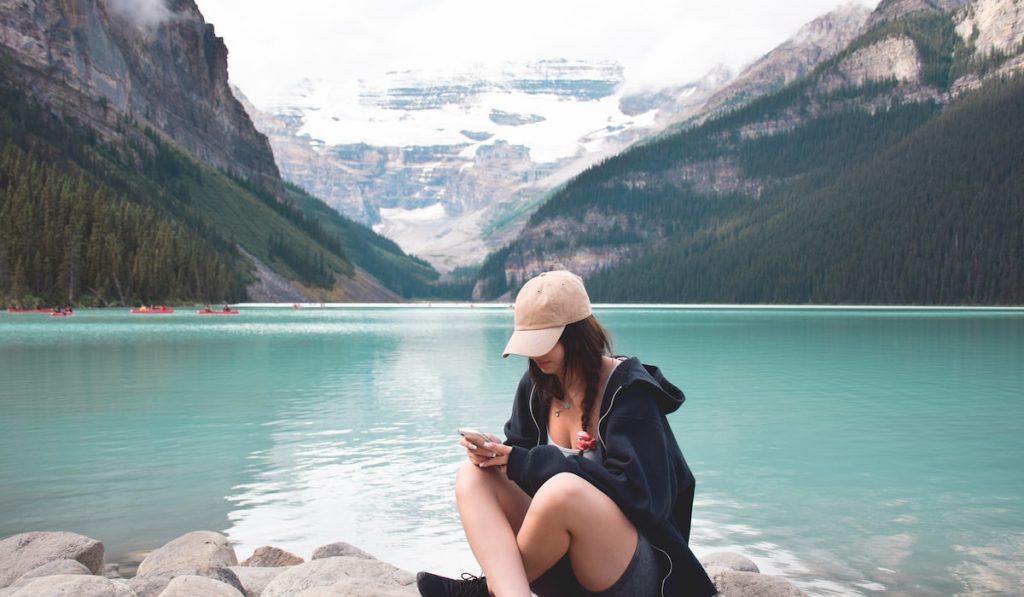 Things get cooler in September, but it is still relatively warm. The average temperature is around 64°F, but the nights might be colder.
In September, the water still sports its brilliant blue color, and you can do pretty much the same activities as in August.
The crowd drops in September, thankfully. So, parking becomes less tasking.
If you are in Lake Louise by September, you can go around in search of larches. There are many larch trees in the area, so you should have fun doing that.
October
October is the last month before Lake Louise freezes over. But it is still a good month to visit Lake Louise. In October, the weather is cooler, the average temperature is around 50°F, but there is still a lot of sunshine. However, the nights can be pretty cold, so prepare for that.
In early October, the larches may still be in color. You can still canoe the lake or go hiking. But if you intend to go canoeing, wear a life jacket. The waters are pretty cold, so you may enter hypothermia quickly if you fall in.
By mid-October, you may start seeing snow. The snow will cover the trees and buildings, creating a beautiful whitish view. But while there's snow, the lake will still remain in its liquid form. So, you can still canoe or go paddleboarding.
Final Thoughts
You can visit Lake Louise at any time of the year. But if you prefer ice-based fun activities like skiing and skating, you should go to the lake between November and May.
Conversely, if you would love to canoe on Lake Louise, go hiking, or visit other lakes around, June to October is the best time to visit.
Resources