Minimalist Packing List for Females
Most of us ladies want to look great in our vacation pictures and have every little convenience at our fingertips while traveling. That's totally legit, but pretty soon, we realize we want to take way more stuff than we really need.
That means it's time to cut out the unnecessary things and try a different approach–a minimalistic one!
It may seem impossible at first, especially if you're used to having a bunch of stuff at your home or wherever you go. But, in travels, as in life overall, a bit of organization usually saves the day and reduces the level of frustration down the road.
So, let's talk about how to make a minimalist packing list for females and how to make the most out of your trip!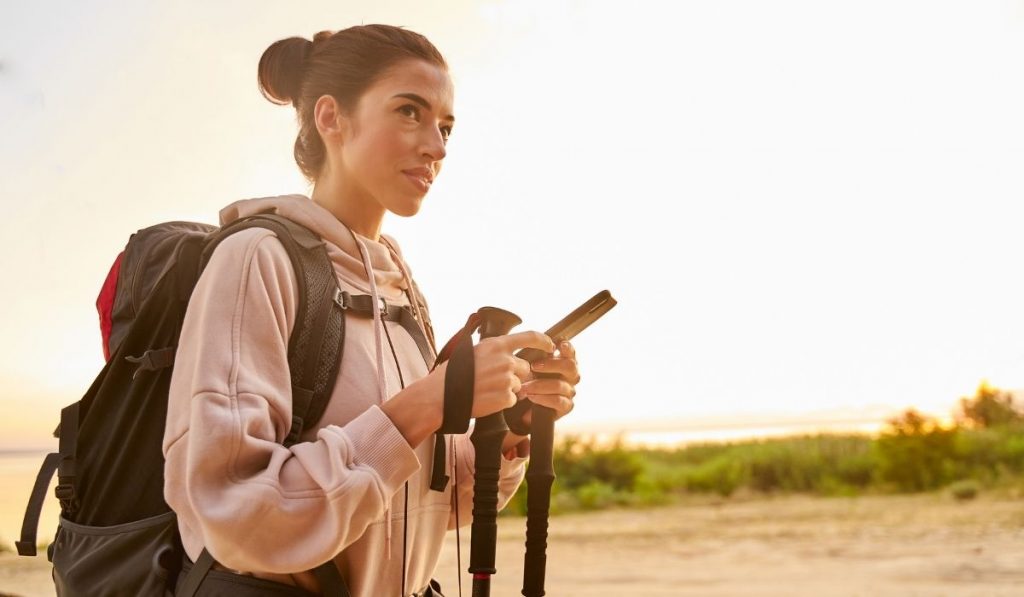 Use a Backpack and Day Bag
Keep in mind that large luggage will likely limit the adventuring you can do. Hauling a heavy suitcase around while you're traveling can be such a drag.
Of course, you don't have to worry about it that much if you're planning to stay in a hotel and go around by taxi. However, if you want to switch locations and make your trip more spontaneous and adventurous, it's definitely better to travel with a backpack and a day bag.
Backpack
The larger your bag, the more useless stuff you'll collect on your trip.
So, do you think you could take a trip with a backpack that's light and small enough to sling into the airplane's overhead bins or carry on your back for a couple of miles?
Of course, this depends on the type and length of your trip, as well as other factors. When it comes to a minimalist packing list for females, aim for less and adjust it to the specific needs of your trip.
Day Bag
Be minimalistic when it comes to your day bag too. You don't want something you won't be able to carry on your shoulder(s) for most of the day.
Choose a practical bag that you can carry essentials such as a passport, phone, wallet, and a bottle of water.
Pack Your Clothing in Cubes
What are cubes? Cubes are simple bags usually made of fabric and mesh that can tidily zip away your clothing.
They are an excellent addition that can help you successfully organize and pack your clothes.
You can place the packing cubes inside your backpack. For instance, you can divide your clothes up into underwear and outerwear by taking one small and one medium-sized cube. If you want extra compression, slip the smaller cube into the bigger one.
Here's an example of how you can separate your clothing into small- and medium-sized cubes.
What You Can Fit Into a Small Cube
Underwear
7-10 pieces of underwear. Adjust the number according to how long your trip is going to be, but keep in mind that you'll mostly find affordable laundry service on your trip.
3-4 bras (a sports bra, underwired bra, floaty crop-top bra). You want your bras to be comfortable, especially if you're going to wander around for most of your day.
One bikini set (or two maximum). You can use one bikini and later change into your underwear when you want to wash it. If you need a bikini, you're probably going to a warmer location where you'll be able to dry your clothes quickly.
Socks
3-4 pairs of socks. Make sure you choose socks made of high-quality materials because you may wear them for the whole day.
Pajamas
Boxers or sports shorts. These are practical because you can use them as pajama bottoms as well.
One tank top you can use as a pajama top. Tank tops are also great as a part of your everyday outfit or as a pajama top.
What You Can Fit Into a Medium-sized Cube
2-3 Dresses
When choosing dresses, take those you can wear on different occasions. You don't want to fill your bag with a bunch of specific ones you plan to wear for one night only.
Take one classical black dress that comes down past your knees and covers your shoulders. This is especially handy when you're visiting more conservative countries or want to enter churches or institutes with strict clothing rules.
Pants
One pair of tights or leggings. These can go well with a dress if it gets colder. Also, if you don't want to stuff your backpack with it, you can always buy a cheap pair at your travel destination.
One pair of shorts. Black shorts are great, especially if you take a pair you can use for exercising, sleeping, or walking around. Of course, you won't really use the same pair the entire time you're there, but it's better to have multifunctional clothes you can basically use all the time.
One pair of jeans. Black jeans are a simple yet effective solution that can go well in both day and night activities. Also, take a pair that's thin enough when it's hot outside but can also be layered with leggings or tights during chilly weather.
Tops
2 T-shirts. Make sure they're simple and comfortable since a regular T-shirt is something you'll probably spend most of your time wearing.
Two long-sleeve tops. Of course, you'll adapt the ratio of T-shirts and long sleeve tops according to the weather. Choose items you can wear in different weather conditions.
Two crop tops. Crop tops are great because they don't take up that much space and you can wear them on the beach or most places you'll visit.
When on a trip, dress in layers so you can wear two tops if it gets colder or have just one with sleeves rolled up during warmer weather.
Outerwear
Take your running shoes or some other pair you're comfortable spending your days in. Your shoes need to be versatile and super light. If you're looking for footwear adequate for chilly and wet conditions, make sure your shoes are waterproof but still lightweight.
Flip flops are a simple beach solution that doesn't take up much space in your backpack–but even if you don't bring them, you can probably buy a cheap pair at your location.
Remember to pack a rain jacket. These jackets are great to have around, plus they don't take a lot of space in your baggage.
Travel Towel
One travel towel. There are many stores where you can find travel towels. They are compact, plus they're quick-drying. Depending on the type of accommodation you choose, you'll probably have towels there too. Still, it's better to bring a travel towel–especially since it doesn't take up a lot of space in your baggage.
What Should Girls Carry in Their Toiletry Bag?
Maybe your toiletry bag at home is really big because you have four different mascaras or several eyeshadow palettes, each for a different occasion or time of day.
That works fine when you're at home, true. But, do you really need all that on your trip? The minimalist packing list for females means going back to the basics.
That means girls should primarily fill their toiletry bag with essentials such as:
Deodorant
Shampoo
Conditioner
Toothbrush
Toothpaste
Dental floss
Razor
Face wash
Body wash
You can search the store for small and practical 2-in-1 shampoo adjusted specifically for traveling. If you're staying in a hotel, why not use the soap you find there as a body wash? Pay attention to such small details because that's how you save room in your baggage.
Also, a minimalist packing list doesn't exclude makeup–you just have to carefully choose for items you really need.
That way, you can bring one lipstick, mascara, and single eyeshadows. Those are essentials that will be enough to tie your outfits together, but at the same time, you'll save a bunch of room in your bags.
Also, if you carry foundation, palettes of eye shadow, and the rest of your makeup collection you use while at home, they might spill on your other products or end up broken from all the moving around.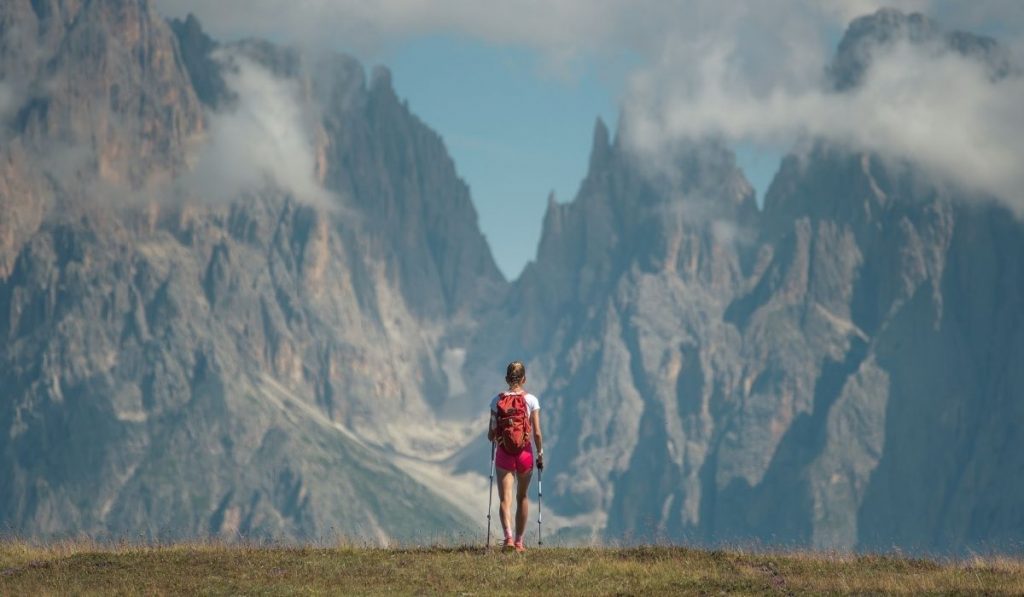 Why Is It Good to Be a Minimalist Traveller?
Have you ever seen backpackers with a HUGE backpack on their back and another one strapped to their front? They don't look happy.
Backpacking is a type of adventure travel where you want to be ready to change your plans literally at a moment's notice. When you're a minimalistic traveler, you pay more attention to creating new memories rather than carrying and handling a bunch of stuff.
If you have too many things with you, you'll probably:
Spend more time packing and unpacking
Take a longer time to dig through your bag to find that one lost item you need at that moment (which is probably covered with a bunch of unnecessary other things)
Be the one who will miss the bus because it's really hard to run when you have heavy luggage
Experience pains and aches because of the weight you're carrying–and this can be a serious issue
Probably end up frustrated because you won't use half of the stuff you brought, and it was really heavy to carry
How to Be a Minimalist Packer
Get a Smaller Bag
With a big bag, you will always be tempted to fill the empty space that's left after you pack all the essentials you need.
A smaller bag will literally force you to cut all those things you thought you couldn't travel without–but it will probably turn out you actually can.
Change Your Mindset
At home, you probably got used to having everything you need within reach. Minimalist packing will help you realize you'll be fine even if you don't have every little convenience at your fingertips.
Backpacking can help you realize that extra stuff doesn't really make people happier. You'll eventually see that most of those things you'd normally put on your list are unnecessary. Or you can go out and try to get the item if you find you really need it.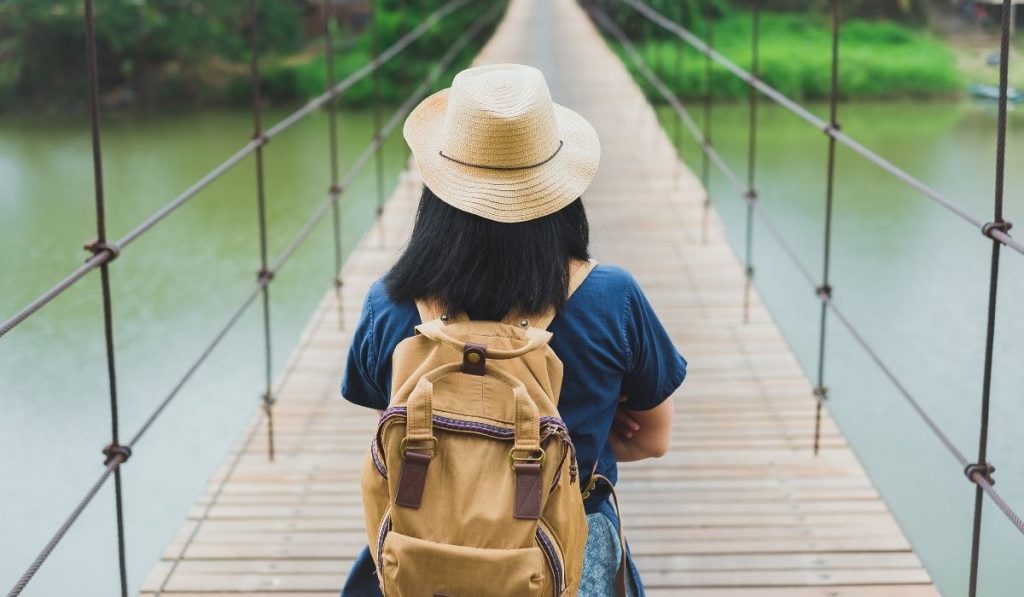 Don't Pay that Much Attention to Fashion
Sure, we live in an age of social media where we mostly feel like we need to look like a cover of a magazine. This mindset means you'll try to carry all the makeup you have, together with a bunch of different outfits that go well with different surroundings.
It's hard not to want cool outfits for literally every landscape you encounter, true. But remember that traveling is way more about relaxation and making new memories.
It's not really about spending most of your time planning a perfect Instagram photo and struggling to carry heavy luggage to make that photo happen.
Also, keep in mind not to compare yourself with travel Instagrammers. It's their job to make each of their photos like it's a cover of a magazine, not necessarily to have fun.
Limit Yourself to the Must-haves
When packing, you'll probably end up with a pile of stuff you believe you "might" need. If you're not careful enough, the pile can get bigger and bigger, which means your minimalist packing process is doomed.
Simply leave all of those items at home and stick to the basics.
In light of that, forget about I'll-wear-it-for-a-special-occasion clothes. Don't bring stuff you bought two years ago and now you're waiting for a perfect occasion to wear them. (It's even questionable if those items should be in your closet if you haven't used them for so long.)
When traveling, choose comfortable clothes you already know you'll wear, not something that "might look good in Instagram photos."
Leave some room for the items you really like. Maybe you want to bring your travel pillow, teddy bear, or comfy sweatshirt.
These are not essentials, but you simply like to keep them around. It's totally fine–minimalist packing doesn't limit you to a strict list of necessary things!
Minimalist packing just helps you understand you don't need that much stuff to have a great time. These little luxuries you carry can go a long way to adding sanity and comfort to your traveling experience.
Some Final Words
No one can give you a strict and precise list of things that you should bring because it depends on factors like the weather, the length of your trip, and the rules of the country you're visiting.
But a good backpack should be the first thing on your minimalist packing list for females. If you're more of an adventurous type of person and like to switch locations during your trip, a backpack is a must.
Try to choose a relatively small backpack where you can pack all the essentials but still won't be tempted to fill it with things you don't really need when you see how much free space is left there.
Cubes are great for helping you compress your clothes and keep the interior of your bag neatly organized. Stick to the basics when it comes to your toiletry bag, too–avoid having three mascaras, foundation, eyeshadow palettes, etc.
Try to be minimalistic and combine a couple of basic clothing items rather than bringing half of your closet with you.
Sources: